Some time back, I shared with you some photos of my great-grandfather Herman Cunningham and his WWI tentmate John Roy McCravey that my aunt Carolyn had sent me. She told me that she had an article about their reunion, but couldn't find it at the time. Later, she took the trouble to find the article on microfilm and share it with me. Here it is:
World War I Tentmates Reunited After 50 Years

October 23, 1969, Lockney Beacon

In this age of high speed transportation, our world seems to have shrunk.

For a pair of World War I buddies, the situation was different. Herman Cunningham of Lockney and Roy McCravey of Memphis had no renewed their friendship for half a century until one day this fall.

The local man had inquired for years about his former Army "tentmate" … but to no avail.

This summer he was visiting in a Plainview convalescent home and struck up a conversation with "a fellow who turned out to be from Floydada." During their chat, Mr. Cunningham asked the Floydada man whether he knew John McCravey.

"No," was the answer, "but a Roy McCravey used to live there. I think he has a sister still living in Floydada."

Cunningham's son-in-law Connie C. Reed, a Floyd County deputy sheriff, knew the woman, who works in a Floydada restaurant. The pair went to see her.

"Do you have a brother named John McCravey?" the Lockney man inquired of the waitress.

"No, but I have a brother, Roy, who now lives in Memphis," came the reply. Further discussion related that "John" and "Roy" were one and the same individual.

Mr. and Mrs. Cunningham were driven to Memphis for a visit with the former friend several weeks ago by a daughter. McCravey and his wife returned the visit recently.

McCravey had lived in the Plainview and Floydada areas before moving to Memphis.

He and Cunningham became friends in 1918 when they were inducted into the Army and trained together at Camp McArthur, Waco. They shared the same tent.

Later, Cunningham and McCravey shipped out together for France. Shortly after their arrival — "four or five days" — the Lockney man contracted meningitis and was hospitalized in France for treatment.

Before he was "back on his feet," armistice had been declared.

Back in the states, Herman and Roy got together once for a visit in 1919. That was in the Cunningham home at Whitfield (now Claytonville).

"Then we both moved and we lost connection," Mr. Cunningham says. He moved to Lockney in 1931.

For the past 50 years the World War I buddies' trails had not crossed … until a chance conversation put Cunningham on the trail. Maybe it is a small world!
Here is a picture of Roy McCravey (left) and my great-grandfather (right) in 1918: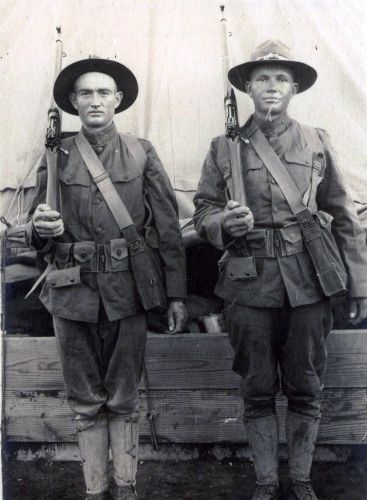 And here is a picture of the two at their 1969 reunion:
It is interesting that I was able to correctly estimate a date for this photo. I guessed it was taken in the late 1960's or early 1970's based on similar photos I had seen in my parents' and grandparents' photo albums.