I have some exciting updates to my research into the Palmer family of Tippah County, Mississippi. You can read about my first forays into researching the family in these two posts:
I decided to create a family tree on Ancestry.com because I had trouble keeping track of what I was learning. Of course, the hints feature allowed me to sift through information more easily and untangle some confusing information.
Fonzo is also named Alfonzo, Alfonso, and Fon depending on the source. He is described as Black in most sources, but in the 1920 Census, he is described as "Mulatto."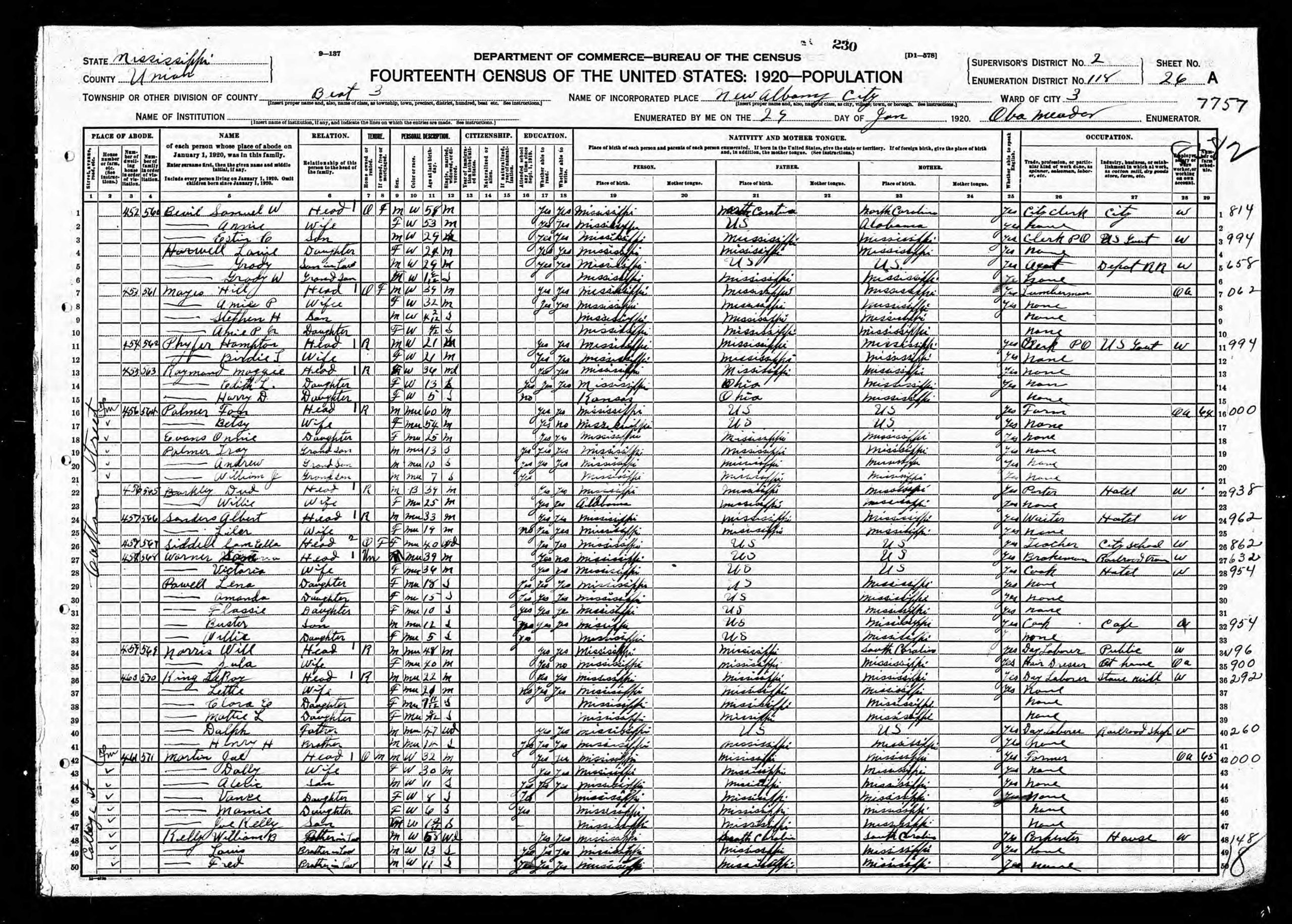 This is interesting given he and his mother had been enslaved by my ancestor, Randolph Eubanks Palmer, and if he did have White ancestry, it stands to reason we might be related. So far, I do not know enough to say. I will likely never know who Fonzo's father was unless I discover a DNA match. He is living with his wife Betsey, daughter Onnie Palmer Evans, and grandchildren Ira (?), Andrew, and William J.
On the 1930 Census, Fonzo is living with his daughter Onnie Palmer Evans's family, and their Census entry falls across two pages.
Fonzo Palmer died on 18 Jul 1938 and is buried in Ripley Cemetery in Ripley, Tippah County, Mississippi. His gravestone lists his name as "Fon Palmer."
It seems as though some of the Palmer family relocated to Peoria, Illinois during the Great Migration. His widow Betsey Leatherwood Palmer is listed in a Peoria, Illinois city directory in 1940. She died on 26 Jul 1940 and is buried in Ripley Cemetery, Ripley, Tippah County, Mississippi.
Over the course of several Censuses, I was able to compile the following list of children for Fonzo and Betsey Palmer:
Arther or Arthur Palmer, 1883-1918
Ollie Palmer, 1885-?
Fonzo Palmer, 1887-1968
Alonzo Charles Palmer, 1887-1951 (I believe Fonzo and Alonzo were twins, and I was touched they had the same names as Fonzo Palmer and his twin)
Henry Palmer, 1892-?
Onnie Palmer Evans, 1894-1962
Rosco Palmer, 1898-?
I'm still working on the children and their descendants, so I may have more definitive dates and information in future posts.
I'm incredibly excited by what I discovered about Fonzo Palmer's mother, Amelia, and in the process, I think I've untangled some confusion in their family trees. I will share that information in my next post.