This post is the second in a chronicle of what I have been able to discover about Fonzo Palmer, who was enslaved by the Palmer family in Tippah County, Mississippi. To read the first, follow this link.
As many genealogists know (and lament), the 1890 Census was lost, so having traced Fonzo Palmer through 1880, the next step was the 1900 Census. As you will see, it's a shame we cannot consult the 1890 Census because we would have learned a great deal about Fonzo's family during that time.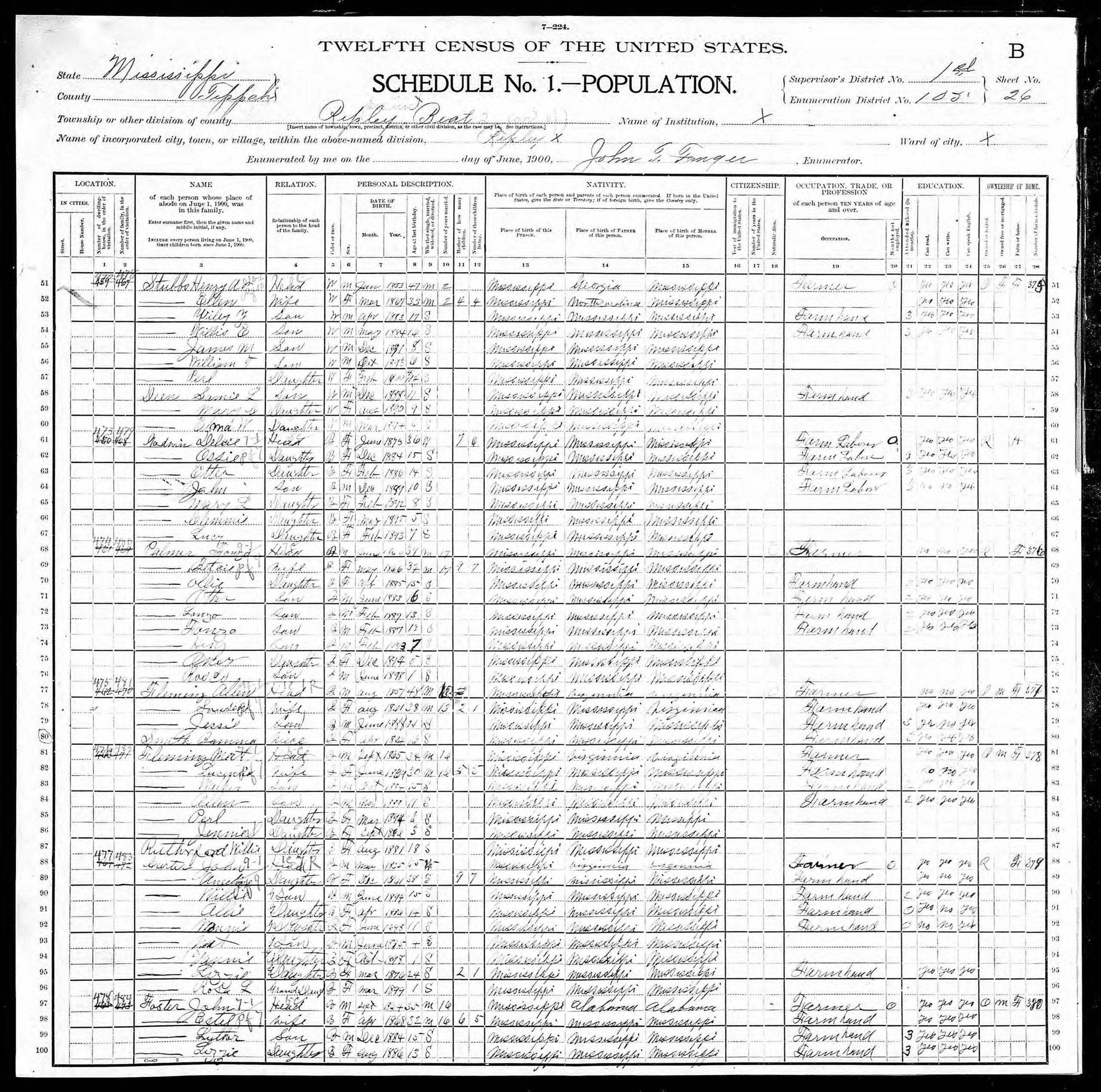 By 1900, we find him married and living with his family in Ripley, Tippah County, Mississippi. Some pertinent information summarized:
Palmer, Fonzo. Head of House. Black. Male. Born June 1860 [which tracks with the list from the previous post], Age 39, Married 17 years, born in Mississippi, both parents born in Mississippi, farmer, cannot read or write, but speaks English
Fonzo must have married in about 1882. His wife is named Betsy, which is extremely hard to read on this Census, but it is clearer on subsequent Census records. Her birth year is listed as 1866, but her age as 34 (again, hard to read). It says she has had nine children, seven of whom are still living.
That Census question always strikes me because something I notice all too frequently is that the numbers are not the same. When I think about how many women had to bury much loved children, it's hard. I just have to admire women in history for all they have borne.
Betsy was listed as born in Mississippi as were her parents.
Fonzo and Betsy's children are as follows:
Ollie, daughter, born April 1885
Arthur, son, born June 1883
Lonzo, son, born Feb 1887
Fonzo, son, born Feb 1887
King, son, born Feb 1893
Aney [Onnie], daughter, born Dec 1894
Rosco, son, born June 1898
The four older children are listed as farmhands, and it looks as if they had some schooling in that year and may have been literate. The four children are all listed as being able to write, and Arthur and Fonzo are listed as being able to read.
The first thing that jumped out at me was the fact that Fonzo and Betsy named their twins after Fonzo and his own twin brother, which made me wonder again how long Fonzo's twin Lonzo lived. Another son was also named after Fonzo's brother King.
Next, I consulted the 1910 Census.
In 1910, Fonzo is once again living in Ripley, Tippah County, Mississippi. He is 52 and Betsy is 44. Her age is correct, but his age should be 50. They have been married for 27 years. Once again, next to Betsy's name, there is an indication that they have lost two children, but all the others living in 1900 are still living in 1910. Fonzo is listed as born in Mississippi and his parents in the United States, while Betsy is born in Mississippi, as were her parents.
The twins Lonzo and Fonzo are still living at home and are 23. Son King is 18. There seems to be an error as Onnie is listed as 15, which would be correct, but is listed as their son, and on all other Censuses, she is their daughter. Son Rosco is 12.
The subsequent Census records will take a bit more untangling, so I'll share those findings next time.