Last updated on August 2, 2006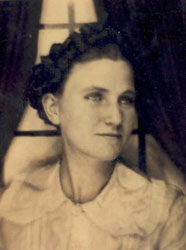 My great-grandmother, Lucille Inez Willis Thurman, passed away on February 19, 2006. Because she was my longest-lived great-grandparent, I have more memories of her than any of my other great-grandparents.
Lucille Inez Willis was born on March 19, 1914 to Grover Cleveland Willis and Melvina Meeks Willis in Marietta, Love County, Oklahoma. Her father was born in Belgreen, Franklin County Alabama in 1886, and her mother was born in Oklahoma in 1887, when it was still Indian Territory. There is a possiblity that Melvina Meeks has Native American ancestry through her Graham family, but it is not certain. I am not sure when Grover Cleveland Willis left Alabama for Oklahoma, but he was certainly there by 1905 when he married Melvina Meeks. Grover Cleveland Willis and Melvina Meeks were the parents of Myrtle Willis Vinson, Joseph Clinton Willis, Clarence O. Willis, Addie Willis Watkins, Lucille Inez Willis Thurman, and twins Willard Olen Willis and Wilma Willis McFadden. This is a picture of Grover Cleveland Willis and Melvina Meeks Willis:
I'm not sure when the photo was taken, but I estimate it was some time in the 1940's.
Granny married Elmer Theodore Thurman (Ted) in Madill, Marshall County, Oklahoma on September 29, 1929. They had the following children: Doris LaNell Thurman Cunningham, Willis Floyd Thurman, Billy Loid Thurman, twins Minnie Lou (Penny) Thurman Paul and Winnie Sue Thurman Bolding, and Lynn Doyle Thurman. This is a picture of the Thurman family, taken between 1946 and 1948: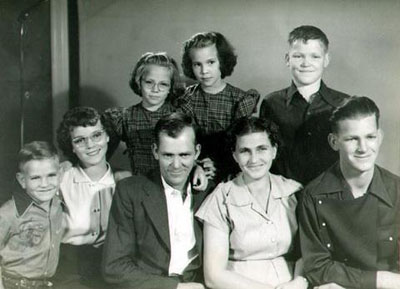 From left to right, bottom row: Lynn Doyle, Doris, Ted, Lucille, Willis; top row: Winnie, Penny, and Billy.
When I was little, Granny and Grandpa Thurman lived in Amarillo, Texas. For a while when I was a teenager, they lived in Indio, California. Toward the end of their lives, they lived in Carlsbad, Texas, next door to their daughter Winnie and son-in-law Arvel Bolding. I can't recall exactly when, but I think they lived in Ardmore, Oklahoma for a time when I was a child. I remember visiting the Ardmore area when I was a child. We visited Granny's sister Myrtle Vinson, who has us help her shell peas. I also remember visiting the Little Brownie Bakers, who make Girl Scout Cookies. They are located in Marietta, Oklahoma. I remember Granny taking us to this bakery, raving about their great cookies. She didn't realize they were Girl Scout Cookies. I am not sure if Little Brownie Bakers still sells directly to the public.
When Granny lived in Indio, she had a chicken that used to come into the house. I think she fed it cat food or dog food.
One of the things I will always remember about Granny is that she had more refrigerator magnets than anyone else I knew. Her refrigerator was covered with them. Most of them looked like food. I remember one in particular looked like a chocolate chip cookie; that one was my favorite. She used to let me play with the magnets when I came to visit her. She always had Dr. Pepper in bottles in her fridge, and she never failed to ask, "Do you want a Dr. Pepper, Sugie?" whenever I came to visit.
Granny also used to put out hummingbird feeders; she always had a lot of hummingbirds to watch outside her window.
When Granny lived in Carlsbad, her home was on a dirt road out in the country. Arvel Bolding had some goats that used to crop the grass, and one of them was named Lucille for Granny. There were a lot of mesquite trees and prickly pear cacti around her home.
I vividly remember going to Granny and Grandpa Thurman's 50th anniversary party in 1979. My mother's cousins were all there. I was eating nuts from a tray, and my mother's cousin Billy Thurman (son of Billy Loid Thurman) told me that I couldn't have any more because I was eating too many. I was so surprised when my grandfather's parents, Herman and Annie Jennings Cunningham came to the party. It didn't occur to me that my grandparents' parents knew each other.
I was not able to go to Granny and Grandpa Thurman's 60th anniversary party, but my mother went. I did go to their 65th anniversary in 1994. My daughter Sarah was just a baby. We had a nice family reunion with some great mesquite barbecue, and I remember Grandpa Thurman was thrilled to have his first great-great grandchild in attendance.
I also went to their 70th wedding anniversary party. There were quite a few more great-great grandchildren in 1999! Granny's obituary stated that she had 21 grandchildren, 50 great-grandchildren, and 20 great-great grandchildren.
Granny was very funny. She liked jokes and had a great sense of humor. Mom recalls that she like wrestling and used to go to matches. She read wrestling magazines when I was little.
Granny always seemed so spry to me. She was one of the toughest people I knew, and I know she hasn't had an easy life. Grandpa Thurman died in 2003. After Grandpa died, Granny developed leukemia. She fought it for some time, but finally, she told her family that she was tired and ready to go see Ted.
Note: This post is Part 3 in a series on grandparents and other relatives I remember personally in my lifetime.