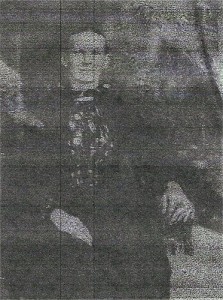 Artamissa Sparks Willis is my great-great-great-great grandmother. She was born on 15 January 1816 in Spartanburg County, South Carolina. She married my great-great-great-great grandfather Andrew Jackson Willis about 1834. They would have eleven children together: David, Newton Allen, Catherine J., Nathaniel A., Milton, Mary, Andrew Jackson, John L. (my great-great-great grandfather), Samuel, James Joseph, and Daniel.
Many researchers in her line mistakenly believe she is a descendant of Mayflower passenger Stephen Hopkins. This lineage is erroneous. It is reported as follows:
Stephen Hopkins
+Bethia Hopkins
++John Kelsey
+++Esther Kelsey
++++Hiel Parmelee
+++++Giles Parmley
++++++Mary Parmely
+++++++William Sparks
++++++++Artamissa Sparks
There is one major problem: Bethia Hopkins is not the daughter of Stephen Hopkins. According to fellow genealogist Gregg Wager:
The long tradition that assumes that William Kelsey's wife's name was "Bethia Hopkins" is based on Hinman's misreading the 1663 record regarding William Kelsey's daughter Bethia and her husband David Phillips. This confusion was further compounded by attempts by zealous genealogists to link this "Bethia Hopkins" to the pilgrim Stephen Hopkins. There is no reliable record of William Kelsey's wife.
Stephen Hopkins had two daughters named Elizabeth (one died before the other), but both died before marrying and could not be Bethia. In any case, William Kelsey's wife is not proven, as Wager stated. Over zealous people (I hesitate to use the word genealogist for something so sloppy) have linked Bethia to Stephen Hopkins in order to provide a Mayflower passenger for their family trees, but any cursory study of Stephen Hopkins's life reveals he had no such daughter. Being a Mayflower pilgrim, his life is more carefully documented than many others of his time. It's been my experience that many sloppy family historians try to make three connections: 1) Pocahontas, 2) a Mayflower pilgrim, 3) nobility and royalty. I am not saying that folks don't have those connections, but not as many folks as claim to.
Artamissa Sparks's name is often also given Artamissra and Artamissia. I don't know much about her. She is reported in the 1850, 1860, and 1870 censuses as living in Franklin County, Alabama. Artamissa Sparks is an ancestor of my grandmother Doris Thurman Cunningham, and I have often found it interesting that the Jennings family, ancestors of my grandfather, Udell Cunningham, were living in the same county at the same time as the Willises. I have strong gut feeling that they must have at least known of each other if not known each other well. How coincidental that their descendants would marry less than 100 years later in Texas. To my knowledge, the families had not been in contact. The Willises lived mainly in Oklahoma after Grover Cleveland Willis, my great-great grandfather migrated there from Alabama, while the Jennings family migrated to Texas. My grandmother was born in Oklahoma, but her family did have some connections to Texas on her father's side, which is possibly how her family wound up living in Texas in the 1940's and early 1950's when my grandparents met and married.
If you look closely at Artamissa's hands, you'll see she has six fingers on one. I have not heard of other family members with polydactyly, but I find it interesting. While the photograph is poor quality, it is possible to tell that she looks like a Willis, as one might say. I see my great-grandmother Lucille Willis Thurman resembles her, anyway.
Here is a picture of Artamissa's son John L. Willis with his wife Ann McNatt and two youngest children, Elisha Clayton Willis and Bell or Belle M. Willis: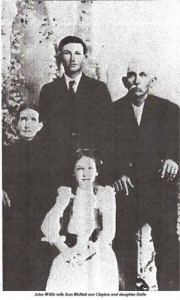 Here is a picture of Artamissa's grandson Grover Cleveland Willis with his wife Melvina Meeks.
And here is a picture of Artamissa's great-granddaughter and my great-grandmother, Lucille Willis Thurman: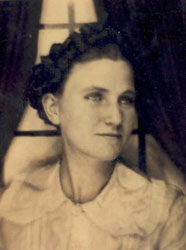 The Willises have deep-set eyes that they appear to have received from their ancestor Andrew Jackson Willis, but I see something of Artamissa passed down through the generations, too.
Artamissa Sparks Willis died on August 6, 1886, making next Friday August 6 the 124th anniversary of her death.
Note: Photographs of John L. Willis and family and Artamissa Sparks were found on Ancestry.com via users rhoades1160 and jones6360.