In my last post, I alluded to some interesting information I uncovered about Fonzo, Lonzo, and King Palmer's mother, Amelia. As it turns out there is a good deal of completely understandable confusion about her.
Following the Civil War, formerly enslaved people were documented in the Census for the first time. Amelia can be found in the 1870 Census.
Her age in this Census is about 37, meaning she was likely born about 1833. She is enumerated on the same sheet as several other Palmer families, including the family of Randolph Eubanks Palmer, who enslaved her.
She should have been about 27 or so in 1860. The 1960 Slave Schedule for Randolph Eubanks Palmer lists several women around the same age as Amelia would have been. Two of the women are 25. On the 1850 Slave Schedule, there is a 16-year-old girl enumerated among those enslaved by Randolph Eubanks Palmer. Unfortunately, Slave Schedules were only used to count enslaved people by age and gender, so I cannot be certain that Amelia is this person, but it seems logical that she might be.
I couldn't find Amelia on the 1880 Census and feared perhaps she died before Census was taken. However, a clue in the story of King Palmer, her son, helped me find her. King Palmer married Ida Spight, and as I did some digging in Census records for her family, I discovered that Amelia apparently married Ida Spight's father, Louis (or Lewis) Spight on 15 Apr 1877 in Tippah County, Mississippi (Mississippi Compiled Marriages, 1826-1900).
There is a great deal of confusion because Louis Spight's wife (and Ida's mother) was still alive in 1870 and is enumerated with her husband and children. Her name was Amanda. Confusion resulted in many of the family trees I found as most researchers believed Amanda and Amelia to be the same person. I believe Amanda and Amelia are different people as Amanda's age in the 1870 Census was a good ten years younger than Amelia's. Granted, that is still within the margin of error, particularly for formerly enslaved people. However, the marriage record coupled with many instances in which the Palmer and Spight families are entwined leads me to believe that Louis Spight was married twice and that his first wife died some time between 1870 and 1878 when he married Amelia.
Amelia Palmer Spight died on 21 Aug 1914 according to her grave marker. In 1920, Louis Spight is listed as a boarder in the home of Jane Pate. His daughter Ella is also listed as a boarder. Louis Spight died on 1 May 1926. He is buried next to his wife Amelia.
King Palmer and Ida Spight married on 1 Nov 1883 (Mississippi Compiled Marriages, 1826-1900). In the 1880 Census, King Palmer was not living with his mother but is enumerated on the same page as his brother Fonzo.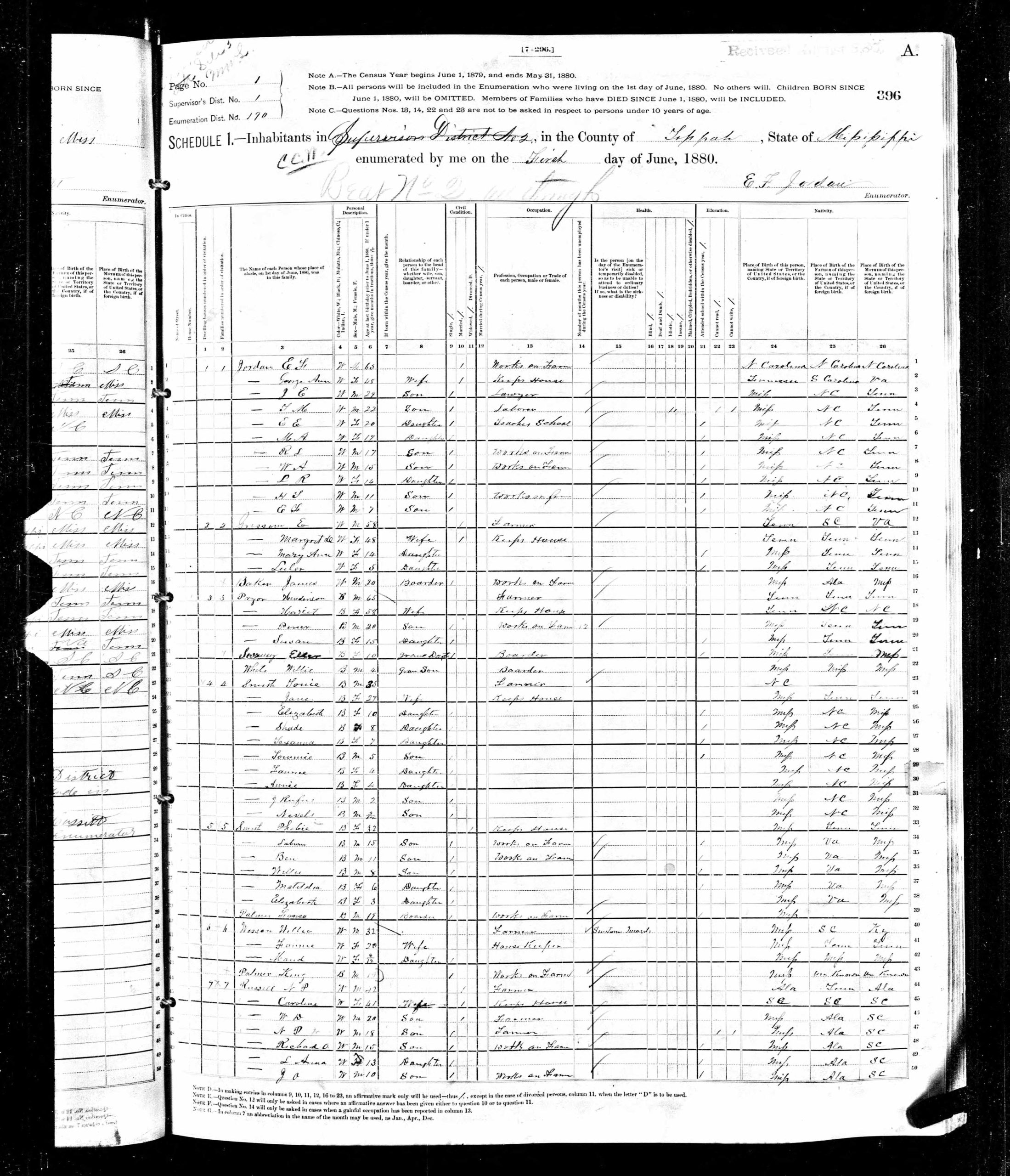 What I think may have happened is that King Palmer and Ida Spight became close and decided to marry after their parents married each other. They are no relation to each other that I am aware of. Their children appear to have lived with Louis Spight and Amelia Palmer Spight in the 1900 and 1910 Censuses. I believe their three children, Thomas, Missie, and Phebe, lived with Louis and Amelia because King and Ida had died by 1900. I cannot find them in any Census after 1880, and because the 1890 Census is missing, I cannot discover much about them.
I could be mistaken about all of this. Amanda and Amelia might be the same person, as other researchers have guessed, and Louis Spight could bear no relation to Amelia Palmer at all aside from being her son King's father-in-law. It could be that she died before 1880. However, after the digging I have done, I believe I am right about this hunch.
My favorite piece of information about Louis Spight is that he fought in the 3rd U.S. Colored Heavy Artillery (Union). I was so pleased to discover this information. According to Wikipedia, the 3rd U.S. Colored Heavy Artillery
was a unit of the United States Army based in West Tennessee during the American Civil War. According to a 2003 article in the journal Army History, "More than 25,000 black artillerymen, recruited primarily from freed slaves in Confederate or border states, served in the Union Army during the Civil War… Federal military authorities armed and equipped the soldiers in these twelve-company heavy artillery regiments as infantrymen and ordinarily used them to man the larger caliber guns defending coastal and field fortifications located near cities and smaller population centers in Louisiana, Mississippi, Tennessee, Kentucky, and North Carolina."

The magazine of the unit's Battery A exploded at Fort Pickering on September 24, 1864, killing two and injuring four. A number of the black men killed in the Memphis riots of 1866 were soldiers of the 3rd Regiment.
I also found his record linked at the National Park Service with a limited amount of information. However, this website had a good deal of interesting information. According to Louis Spight's record, he was promoted to the rank of First Sergeant by the end of his service. He was mustered out of service in Memphis in 1866, and it's entirely possible that he witnessed the infamous Memphis Race Riot of 1866.
Though Louis Spight's name is spelled "Lewis Spite" in these records, I believe the records refer to Louis Spight because his records say he was from Tippah County, Mississippi, and enlisted in Corinth, Mississippi, which is not very far from Tippah County. His age matches as well.
I was really excited to discover this information about Louis and Amelia Palmer Spight.