Last updated on April 12, 2009
In 1685, Louis XIV issued the Edict of Fontainebleau, a revocation of the Edict of Nantes. Under the Edict of Nantes, Protestants were granted certain civil rights. Louis XIV's new edict declared Protestantism illegal, and after its issuance, hundreds of thousands of Huguenots fled the country. The violence done to Huguenots in France prior to the Edict of Nantes is counted among history's worst atrocities. Among those Huguenots who escaped the violence that was sure to follow the Edict of Fontainebleau were my ancestors Daniel Jouet, his wife, the former Marie Coursier, and their children Daniel and Pierre.
Daniel Jouet was born in about 1660 in ÃŽle de Ré, France, near the Huguenot center of La Rochelle. He was a sailmaker by trade (Van Ruymbeke 93). Daniel Jouet and his wife initially emigrated to London, England after the Edict of Fontainebleau. In late 1686 or early 1687, they received five pounds sterling to "go to Carolina" from the French Committee, who oversaw dispensation of funds to needy Huguenots in England (Van Ruymbeke 93). They would not leave for Carolina until 1695. First, they moved to Plymouth, where their third child, a daughter named Marie, was born. In 1688, they emigrated to Narragansett, Rhode Island (Van Ruymbeke 93). In 1689, the Jouets relocated to New York City where their fourth child, Ézéchiel was born (Van Ruymbeke 93). Ézéchiel, another son Jean, and two more daughters, Élisabeth and Anne, were baptized in the French Church in New York (Baird 306). By 1695 the family "suddenly and surprisingly" left for Carolina at last. They petitioned for naturalization in 1696, but did not remain in Carolina long before once again relocating to Elizabethtown, New Jersey (Van Ruymbeke 93). Daniel Jouet's will was proved on October 10, 1721 (Calendar of New Jersey Wills).
Daniel Jouet's rootlessness is explained by Bertrand Van Ruymbeke as "symtomatic of the post-Revocation exodus and of the displaced Huguenots' unusual capacity for mobility" (94).
I descend from Daniel's son Pierre, who established his own family in Virginia. It is not clear when, but some time after the Jouets emigrated, the spelling of their name was altered to "Jouett." Pierre's son Matthew Jouett was the progenitor of a long line of namesakes in the families of his female descendants. For example, his daughter Henrietta married Joseph Williams and would name her son Matthew Jouett Williams. Matthew Jouett Williams' daughters Rebecca (Williams) Anthony and Mary Ann (Williams) Black would name their sons Matthew Jouett Williams Anthony and Matthew Jouett Williams Black, respectively.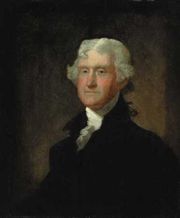 Matthew Jouett was a captain of the Virginia Militia in the American Revolution. His son is perhaps a more famous Patriot than he, however. Captain John "Jack" Jouett is known as the "Paul Revere of the South." Captain Jack Jouett's son Matthew Harris Jouett is a well-known artist. To the left is his famous portrait of Thomas Jefferson. [Note: Deb Comer in the comments is absolutely right about dates; the erroneous information was found on the site I linked. A lesson: Be careful about even reputable sources!]
Daniel Jouet's descendants included Tories, too. Cavalier Jouet was a son of Daniel Jouet (Jr. — Daniel Jouet's son). Cavalier Jouet remained in New Jersey; he was raised by his grandparents, Daniel Jouet and Marie Coursier Jouet. He was imprisoned for his Loyalist sympathies, but escaped behind British lines in New York. His property and estate were confiscated, and he emigrated to England. He returned to America in 1792 to attempt to regain his property, but was apparently unsuccessful and returned to Rawreth, Essex in England, where he died in 1810. Cavalier Jouet's son Xenophon Jouet was also a Loyalist. He fought as ensign in the New Jersey Volunteers during the Revolution, then moved to Canada following the war.
My connection to Daniel Jouet may be traced thusly:
Dana Michelle Swier
+ Patti Jo Cunningham
++ Udell Oliver Cunningham
+++ Herman Cunningham (1895-1980)
++++ Amos Blakey Cunningham (1871-1962)
+++++ Mary Ann Penelope Anthony (1835-1917)
++++++ Matthew Jouett Williams Anthony (1808-1868)
+++++++ Rebecca Williams (1782-1832)
++++++++ Matthew Jouett Williams (1749-1818)
+++++++++ Henrietta Jouett (1727-1779)
++++++++++ Matthew Jouett (Abt. 1701-1746)
+++++++++++ Pierre Jouet (1683-1743)
++++++++++++ Daniel Jouet (Abt. 1660-1721)
This post is the fourth in a series about my known immigrant ancestors.
Book Sources:
Baird, Charles Washington. History of the Huguenot Emigration to America. Vol. 1. New York: Dodd, Mead, 1885.
Van Ruymbeke, Bertrand. From New Babylon to Eden: The Huguenots and Their Migration to Colonial South Carolina. Columbia, SC: University of South Carolina Press, 2006.
Web sources are linked above.