Last updated on July 15, 2015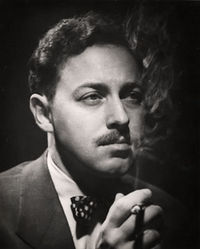 I recently posted about my distant relationship (Twain would laugh about it, I'm sure) to Mark Twain. Imagine my surprise to discover I am connected to another of my favorite American writers, Tennessee Williams.
Tennessee Williams (1911-1983) was born Thomas Lanier Williams to Cornelius Coffin Williams, a traveling shoe salesman, and Edwina Dakin Williams. His troubled family life proved fertile ground for his writing later. Tennessee had an older sister, Rose, who suffered from schizophrenia and served as the model for Laura in The Glass Menagerie. Rose spent most of her life in mental hospitals. She never recovered from a lobotomy in 1943. Tennessee also had a younger brother, Walter Dakin (known as Dakin).
Cornelius Coffin Williams (1879-1957) was born to Thomas Lanier Williams II (1849-1908) and Isabella Coffin (1853-1884).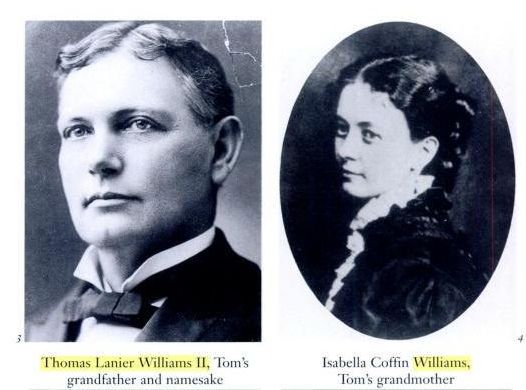 Tennessee's grandfather was the Commissioner of Railroads for Tennessee.
Thomas Lanier Williams II was born to Col. John Williams (1818-1881) and Rhoda Campbell Morgan (1819-1867).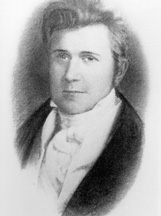 John Williams was born to John Williams (1778-1837) and Melinda White (1789-1838). John Williams, Sr. was known as "Prince John." He was a veteran of the War of 1812 and served in the U.S. Senate from 1815-1823. Melinda White's father was General James White, who founded the city of Knoxville, TN.
John Williams, Sr. was born to Col. Joseph Williams (1748-1827) and Rebekah Lanier (1757-1832). Joseph Williams was known as the "Duke of Surry." His family settled in Surry County, NC. Col. Williams was a colonel in the Colonial Army, but resigned his commission when the Revolutionary War broke out and became a colonel in the Continental Army.
Joseph Williams was born to Nathaniel Williams (1712-1763) and Elizabeth Washington (1717-?).
Nathaniel Williams was born to John Williams (1679-1755) and Mary (most likely Mary Keeling, 1684-1730). John Williams emigrated to America from Llangollen, Wales, most likely in the 1690's. He first settled in York County, Virginia, on Queen's Creek. He later moved his family to Hanover County, where he built his home, "Studley," before 1712.
The above drawing of "Studley" is from Appleton's Cyclopedia, 1888, via Early Descendants of John Williams, "The Wealthy Welshman" of Hanover County, Virginia.
John Williams was also the father of my ancestor, Joseph Williams (1721-1792). Many of my ancestors allied with the Williams line, including the Anthonys, moved from Virginia to Georgia and settled in the Wilkes/Elbert/Oglethorpe/Madison counties. Joseph Williams married Henrietta Jouett, a descendant of Daniel Jouett, who emigrated to Plymouth, England after the Edict of Nantes was revoked by Louis XIV in 1685. Jouett later emigrated to Rhode Island (1686), and it is said that he is the ancestor of most Jouetts/Jewetts in America.
Joseph Williams and Henrietta Jouett were the parents of Matthew Jouett Williams (1749-1818). Matthew Jouett Williams married Barbara Walker (1754-1817). Matthew Jouett Williams was apparently visiting relatives in Surry County, NC. when he died. His will was proven in Elbert County, GA. on January 15, 1819.
Matthew Jouett Williams and Barbara Walker were the parents of Rebecca Williams (1782-1832). Rebecca married Micajah Anthony (1782-about 1850), son of Joseph Anthony, Jr. (1750-1810) and Elizabeth Ann Clark (1754-after 1810). Micajah Anthony and Rebecca Williams were the parents of Matthew Jouett Williams Anthony (1808-1868).
Matthew Jouett Williams Anthony married his second cousin, Ann Blakey Roberts (1810-1873). They were the parents of Mary Ann Penelope Anthony (1835-1917). For some strange reason, it seems to be through this ancestor that most of my really "interesting" ancestors and connections form.
Mary Ann Penelope Anthony married Johnson Franklin Cunningham (1823-1899) in Madison County, Georgia in 1851. In the picture below, Johnson Franklin Cunningham and Mary Ann Penelope Anthony Cunningham are seated in the bottom row.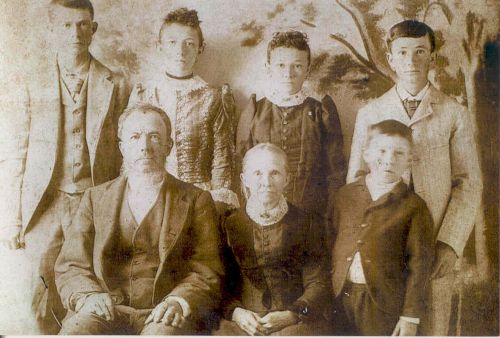 In the back row on the far right is Amos Blakey Cunningham (1871-1962). He married Stella Ophelia Bowling (1867-1938) in 1894.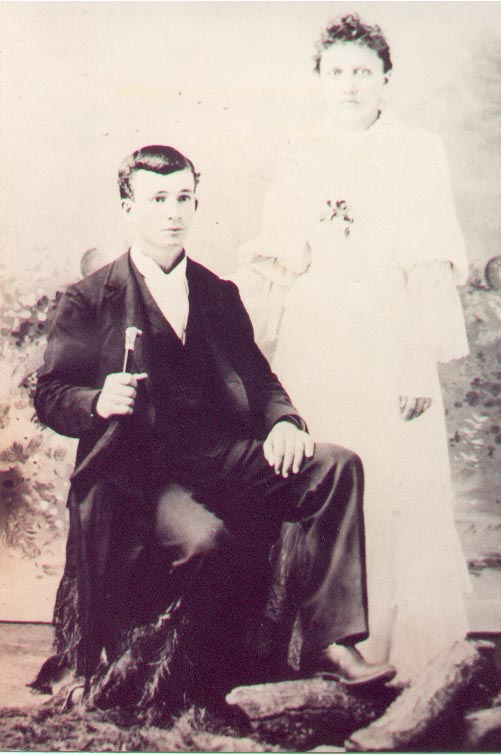 They were the parents of Herman Cunningham (1895-1980). He married Annie Lola Jennings (1899-1982) in 1920.
Herman Cunningham and Annie Jennings were the parents of my grandfather, Udell Oliver Cunningham.
Herman Cunningham was the sixth cousin of Thomas Lanier "Tennessee" Williams; thus, I am Tennessee Williams' sixth cousin three times removed (see chart below).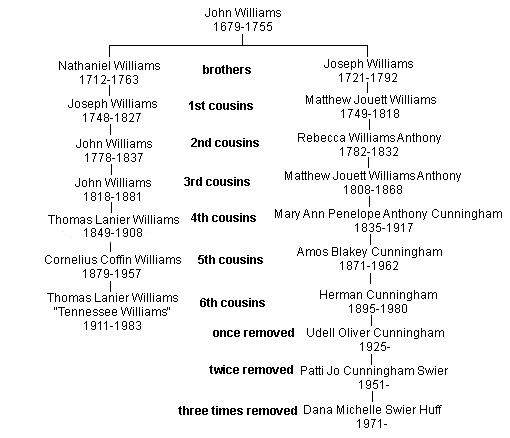 Yes, in other words, hardly related. I still think it's cool. And I have a feeling if ol' Tennessee were still around and I ran into him somewhere and told him I figured this out, he'd get a kick out of it. He was "openly proud" of his family history (Leverich 9). However, I have a feeling Mark Twain might have agreed more with Tennessee's father Cornelius on the matter — "Bragging about ancestors is like bragging about potatoes: The best part is underground" (qtd. in Leverich 9).
Sources:
Leverich, Lyle. Tom: The Unknown Tennessee Williams. New York: W.W. Norton, 1995.
Williams, Scott K. Early Descendants of John Williams, "The Wealthy Welshman" of Hanover County, Virginia. 22 Mar 2006. 18 July 2006 <http://www.usgennet.org/usa/mo/county/stlouis/williams/>.